In 2016, virtual reality content continued its triumphal march onto our mobile device screens and stationary computer systems, currently especially in the form of 360° videos. Such content is being shown more and more frequently with all commonly available HMDs (head-mounted displays). These devices are now available in every different price range – from Google Cardboard to Samsung VR or other systems like the HTC Vive.
This leads to the question: How can you use 360° and virtual reality (VR) content on your customers' smartphones or in their presentations? The team at blickfang post production and DAS STUDIO has been intensively considering just this question for quite some time. Just last year, the team created two completely 3D productions: a car trip on an off-road course and a virtual supermarket users can experience interactively, with surround sound and the ability to remove objects from the shelves.
PURE GOOSEBUMPS
Last year also brought along new possibilities in video production, which is experiencing a rush of 360° VR productions for the same reasons as described above. The ability to share a unique experience with our customers by taking them along with us to the site of the action creates a whole new user experience.
The ability to document a real action provides a certain level of realism that has several advantages over a 3D rendering production. The 360° effect itself isn't the only thing that creates a "wow" effect – the believability of the experience and the knowledge you're having a real experience, "up close and personal" brings on pure goosebumps.
We purchased all the equipment to make sure we could deal with the technology in detail and sound out all of its limitations and special features. We worked intensively with some products, especially with the so-called RIG (the camera cube, which consists of multiple cameras that take individual films which later have to be combined into one single experience) and the specialized software. This created new kinds of challenges not found in a "normal" film production. Although our team already had 15 years of broad experience in panoramic photography and 360° tours, we expect to see a new level of complexity in the moving image.
The knowledge that we were going to have to do without quite a few aids that usually make production easier – because everything is in the camera's field of view and we needed to avoid pixel retouching as much as possible – drove us to do a lot of research and find new solutions. For example, a simple camera run is suddenly turned into a difficult task if you have other equipment like tracks or dollys in the image.
But even the immense amount of effort that went into post-processing for the 360° videos with previously unknown parameters confirmed that we were right to do our test production. Here's an example: The question of where and how to mount the camera RIG to create as few parallax problems as possible (the areas between the individual camera perspectives that point in different directions depending on how they are mounted).
RACING ACTION IN 360°
After completing a "dry run" to try out basic possibilities, blickfang decided to create a real "360°" video. To do so, the DAS STUDIO subsidiary booked time on the track with a professional motorcycle racing event. Luckily, DAS STUDIO has its own motorcycle racer among its ranks. He and his team offered to take the riding footage while he raced. The whole team met for a racing weekend in Most, in the Czech Republic.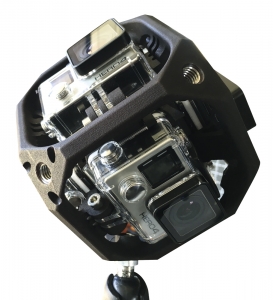 The RIG was mounted to the superbike with specialized brackets. Especially when working with motorcycles, the very limited available space can make things difficult. blickfang, however, used this challenge to build professional mounts on the motorcycle, a BMW S 1000 RR. The team filmed a variety of scenes while driving and while stopped, and from different perspectives. The first on site results were extremely positive. The filming went very well, even under these difficult conditions. The specialists at blickfang then completed additional steps back in their production rooms.
The software that combines these different films into one (a process called stitching), of course, only processes the digital signals. For these professionals, creating the right sequences with the right technical expertise is simply in their blood. However, they found that a truly great video has to be created from a thousand tiny details. We learned we had started off by picking one of the most difficult tasks we could in producing a 360° video when we began shooting the film, and this was certainly confirmed during post production. What can we say? We wanted to see some action, and to offer you something special too!
We hope you enjoy watching it.

---
---
DAS STUDIO "Trusted Brand Production" – consistent and efficient implementation of your brand architecture and communication through all touch points, both domestically and abroad, is our core competence.
We've been successfully focusing on innovation and providing the best, award-winning customer service since we launched back in 1969. Along the way, we've always kept our core areas of expertise – image and color – in mind.
We use our broad experience and outstanding commitment to produce visual content for packaging, PoSM, and marketing communications for small, sophisticated brands, trademarks, and global players, in both print and digital media.
Happy and successful customers are our mission.
Central Brand Management as central reproduction or design-to-print-agency.
DAS STUDIO acts as a central brand management agency (central reproduction) to support trademark holders in efficiently and consistently adapting and implementing their whole range of packaging and PoSM across all printing processes and languages (design-to-print) – Your benefits as a branded company or retailer:
• efficient and consistent implementation (color, CI/CD) of all packaging designs, promotions or PoSM across all materials and printing processes
• faster implementation of promotions and language adaptations
• faster, centralized access to the most recent data
• data controlling through to the printing plate
You might also be interested in:
SAMPLE "INVISIBLE" BARCODE IN COLORED AREAS
MILLIONS OF CUSTOM PACKAGING SOLUTIONS – DIGITAL PRINTING MAKES IT POSSIBLE!
FILTERED, NOT STIRRED – A NEW LOGO FOR BRITA
DAS STUDIO WINS "HP INNOVATION AWARD"
DAS STUDIO Services
You can find all of our services here, all of which are also available individually. The broad range of services we offer makes us an optimal partner providing everyday support to marketing departments and agencies – including all the different tasks they perform everyday, no matter how tight the deadlines.
Creative Services
• Photography
• Retouching/Composing
• Design Adaptation (Sizes, Types, Languages)
• 3D Modelling/Pack Shots
• Dummy/Mock-Up
Prepress Services
• Artwork/Final Artwork
• Repro/Litho
• Colour Management
• Proofing
Print Services
• Print Production Management
• Fingerprints
• Press Proof
• Print Approval/Print Analysis
Medien-IT
• DS Workflow Management "WebJobTasche"
• DS Asset Management
• DS Design Automation
• DS Statistics
Digital
• App-Development
• Digital Signage
• Augmented Reality
• Virtual Reality
• CGI/3D – Stile & Animation
• Animation/Film