Nowadays, everyone is talking about virtual reality (VR) and augmented reality (AR).
DAS STUDIO can support you in all of these types of questions, and can serve as your expert partner when it comes to producing VR and AR content.
What is "Virtual Reality?"
Wikipedia defines Virtual Reality (VR) as follows:
Virtual reality, or VR for short, is described as the representation and perception of reality and its physical properties in an interactive, virtual environment which is generated by a computer in real time.
By the time the Oculus Rift VR goggles were bought by Facebook in 2014 for 2.3 billion dollars, the topic of VR was once again on the radar of the gamer and media landscape.
Shortly thereafter, a whole series of providers followed by announcing or presenting their own solutions.
These included, for example, the Samsung Gear VR – a simple version for your smartphone, or direct competitors like the Project Morpheus by Sony (in conjunction with Playstation); the Microsoft Holo Lens (technically more of an AR solution), and the HTC Vive, which seems to be the most advanced when it comes to image quality and movement. Apple also recently announced its foray into developing a VR solution.
Expansions in interaction are expected in all of these solutions in the near future, providing creative room for further applications.
The high-quality solutions HTC Vive and Oculus Rift will be available in Germany starting in June / July.
The price for the goggles without computer is 699 euros. Experts expect the HTC Vive to cost up to 900 euros.
Google Cardboard as the least expensive alternative

"Google Cardboard," which provides a "less impressive" experience, is less expensive than the solutions described above. However, that makes it all the more surprising, for instance, to find how well the "StreetView" app works, allowing you to take three-dimensional strolls through cities like New York. The goggles are an exciting product for advertisers as well, since they are available from around just 12 euros each. Of course, this price can drop dramatically for large orders (for example in an order placed by DAS STUDIO Hong Kong Limited).
What's VR for, anyway?
Today, the ability to have a whole new visual and emotional experience is still novel and unique. This means that it also brings with it an element of surprise, and a high level of attention that brands can profit from. It's a Wow! effect that's still paying dividends. The user's attention is focused 100% on the media experience, since VR goggles give you the feeling of truly being part of the action. With the screen directly in front of their faces, there's nothing to distract from the designed experience.
This "immersive" experience can be augmented even further using sound and interactive possibilities with objects or other people in the virtual space.
Google Cardboard is still unbeatable for applications for the broader public (promotions, advertisement, film), followed by the Samsung VR for events. The Oculus or Vive are certainly best-suited for high-quality solutions in showrooms or flagship stores.
The "DAS STUDIO Virtual Supermarket"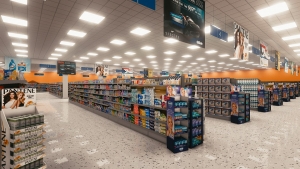 DAS STUDIO and its subsidiary "blickfang" created a virtual supermarket for the Oculus Rift based on the Unity game engine.
Users can walk through the supermarket with background noise in any direction they choose. The sounds are tied to specific objects, such as the humming of the freezer or the ringing of the cash register. Their volume and direction depend on the user's location in relation to the object, and the program uses surround sound to make the experience even more immersive.
The shelves were created using a variety of techniques so that we could compare them against one another. Many of the shelves are filled with photos, which are given depth using a camera trick. Various "real" 3D packages have also been placed on some other shelves; these can be viewed from all sides. They have been specially optimized for this kind of real time 3D application. This allows users to walk through and experience a complete supermarket in full size.
Shelves can be cleared and filled again with any desired packaging. This can be automated as needed using parts lists, or "live," for instance alongside customers. This opens up new opportunities for Category Managers and FMCG/CGP sales in retail stores, either with Oculus Rift goggles or in a browser window.
Import created PoS objects with Esko Studio
One special feature is the option to integrate point of sale objects like displays, ceiling advertisements, shelf strips, or wobbler advertisements into the virtual supermarket.
Drafts of new displays can be imported from the Esko 3D visualization program, then "finished" and presented to the customer either using Oculus Rift goggles or without goggles on a specialized browser on the screen and in the virtual supermarket.
Other applications of VR
Events and trade fairs
Record concerts or brand events in spectacular 360° films. Include great sound and film from a variety of viewing angles – such as looking directly into the audience from the stage itself. We also offer drone filming for open-air events and locations.
Training and education
The ability to interact with other people and virtual objects in the virtual space can create training opportunities that might be difficult to carry out at a specific location or with specific equipment or vehicles.
Visualizing rooms or places for the tourism industry and architecture, trade fairs, and display windows
Customers can walk through planned buildings in scaled virtual tours, or jet off to their next vacation destination. This lets them check out their hotel in more detail and in a more entertaining way, giving them a true vacation feeling. Museums can also move their exhibits to the virtual world, graphically visualizing and bringing to live data, objects, and areas that they otherwise couldn't. Virtual reality is a valuable tool for planning, presentation, and sales. Display your portfolio and allow your customers to experience your innovations "live and in color." Create Wow! effects.
The DAS STUDIO team has already produced a variety of content for the Google Cardboard and Oculus Rift. We would be happy to produce your VR content as well.
If you have any questions about virtual reality, please contact
Björn Hegner:
b-hegner@das-studio.de
---
---
DAS STUDIO "Trusted Brand Production" – consistent and efficient implementation of your brand architecture and communication through all touch points, both domestically and abroad, is our core competence.
We've been successfully focusing on innovation and providing the best, award-winning customer service since we launched back in 1969. Along the way, we've always kept our core areas of expertise – image and color – in mind.
We use our broad experience and outstanding commitment to produce visual content for packaging, PoSM, and marketing communications for small, sophisticated brands, trademarks, and global players, in both print and digital media.
Happy and successful customers are our mission.
Central Brand Management as central reproduction or design-to-print-agency.
DAS STUDIO acts as a central brand management agency (central reproduction) to support trademark holders in efficiently and consistently adapting and implementing their whole range of packaging and PoSM across all printing processes and languages (design-to-print) – Your benefits as a branded company or retailer:
• efficient and consistent implementation (color, CI/CD) of all packaging designs, promotions or PoSM across all materials and printing processes
• faster implementation of promotions and language adaptations
• faster, centralized access to the most recent data
• data controlling through to the printing plate
You might also be interested in:
SAMPLE "INVISIBLE" BARCODE IN COLORED AREAS
MILLIONS OF CUSTOM PACKAGING SOLUTIONS – DIGITAL PRINTING MAKES IT POSSIBLE!
FILTERED, NOT STIRRED – A NEW LOGO FOR BRITA
DAS STUDIO WINS "HP INNOVATION AWARD"
DAS STUDIO Services
You can find all of our services here, all of which are also available individually. The broad range of services we offer makes us an optimal partner providing everyday support to marketing departments and agencies – including all the different tasks they perform everyday, no matter how tight the deadlines.
Creative Services
• Photography
• Retouching/Composing
• Design Adaptation (Sizes, Types, Languages)
• 3D Modelling/Pack Shots
• Dummy/Mock-Up
Prepress Services
• Artwork/Final Artwork
• Repro/Litho
• Colour Management
• Proofing
Print Services
• Print Production Management
• Fingerprints
• Press Proof
• Print Approval/Print Analysis
Medien-IT
• DS Workflow Management "WebJobTasche"
• DS Asset Management
• DS Design Automation
• DS Statistics
Digital
• App-Development
• Digital Signage
• Augmented Reality
• Virtual Reality
• CGI/3D – Stile & Animation
• Animation/Film