"ON A ROLL!" – DAS STUDIO WAS CHOSEN AS ONE OF GERMANY'S 424 MOST INNOVATIVE COMPANIES BY "BRAND EINS" AND STATISTA
Approx. 2,000 representatives from award-winning, innovative companies, 250 specialists from the Berlin Institute for Innovation and Technology, and roughly 20,000 managers and employees were surveyed by the Statista expert panel to create the current rankings. These surveys were used to prepare a list of the very best – according to brand eins, "there's no other survey in Germany that brings together more expert voters."*
We would like to thank all the experts and respondents for giving us a place in the innovation rankings!
ATTITUDE SHAPES INNOVATIVE CAPACITY
As Susanne Risch writes in brand eins, "attitude" is key when it comes to innovation.
Our customers are always the ones who benefit from award-winning innovations at DAS STUDIO, and from our readiness to continuously challenge and improve our processes. We are proud to follow John Bessant's mottos: "Do better what you do anyway" and "Do something different" (brand eins topic: Innovation, 2017, page 8, Kathrin Möslein).
DAS STUDIO has already won two innovation awards because of this attitude. Most recently, DAS STUDIO received the award "Most innovative company of the year" from Hewlett Packard for our "Virtual Supermarket" (for Oculus Rift/HTC Vive) at the Print & Media Awards 2016. DAS STUDIO and our subsidiary "blickfang" designed a virtual supermarket for the HTC Vive and Oculus Rift VR goggles based on the Unity game engine.
Please contact Björn Hegner with any questions on virtual and augmented reality and the DAS STUDIO "Virtual Supermarket": b-hegner@das-studio.de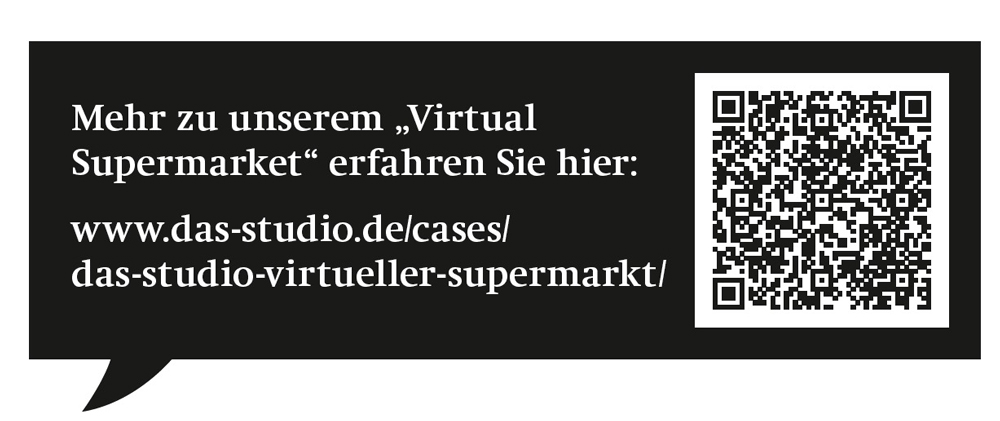 * Source: brand eins topic: Innovation, 2017, page 3
https://kiosk.brandeins.de/products/innovation-2017-brandeins-thema
---
---
DAS STUDIO "Trusted Brand Production" – consistent and efficient implementation of your brand architecture and communication through all touch points, both domestically and abroad, is our core competence.
We've been successfully focusing on innovation and providing the best, award-winning customer service since we launched back in 1969. Along the way, we've always kept our core areas of expertise – image and color – in mind.
We use our broad experience and outstanding commitment to produce visual content for packaging, PoSM, and marketing communications for small, sophisticated brands, trademarks, and global players, in both print and digital media.
Happy and successful customers are our mission.
Central Brand Management as central reproduction or design-to-print-agency.
DAS STUDIO acts as a central brand management agency (central reproduction) to support trademark holders in efficiently and consistently adapting and implementing their whole range of packaging and PoSM across all printing processes and languages (design-to-print) – Your benefits as a branded company or retailer:
• efficient and consistent implementation (color, CI/CD) of all packaging designs, promotions or PoSM across all materials and printing processes
• faster implementation of promotions and language adaptations
• faster, centralized access to the most recent data
• data controlling through to the printing plate
You might also be interested in:
SAMPLE "INVISIBLE" BARCODE IN COLORED AREAS
MILLIONS OF CUSTOM PACKAGING SOLUTIONS – DIGITAL PRINTING MAKES IT POSSIBLE!
FILTERED, NOT STIRRED – A NEW LOGO FOR BRITA
DAS STUDIO WINS "HP INNOVATION AWARD"
DAS STUDIO Services
You can find all of our services here, all of which are also available individually. The broad range of services we offer makes us an optimal partner providing everyday support to marketing departments and agencies – including all the different tasks they perform everyday, no matter how tight the deadlines.
Creative Services
• Photography
• Retouching/Composing
• Design Adaptation (Sizes, Types, Languages)
• 3D Modelling/Pack Shots
• Dummy/Mock-Up
Prepress Services
• Artwork/Final Artwork
• Repro/Litho
• Colour Management
• Proofing
Print Services
• Print Production Management
• Fingerprints
• Press Proof
• Print Approval/Print Analysis
Medien-IT
• DS Workflow Management "WebJobTasche"
• DS Asset Management
• DS Design Automation
• DS Statistics
Digital
• App-Development
• Digital Signage
• Augmented Reality
• Virtual Reality
• CGI/3D – Stile & Animation
• Animation/Film